Voices in the Wind/Wind Series
VOICES IN THE WIND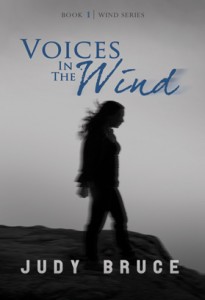 My novel is set in western Nebraska in the American Midwest. A young attorney accepts a job at her imperious father's law firm, which forces her to confront tragedies old and new, and leads her into a harrowing fight for survival and the transformation that brings forgiveness and a new perspective.
Along the way, my heroine, Megan, must deal with a crooked attorney, a tornado, lots of root beer, a blond stud, voices in the wind, heartbreak, a lunatic with a shotgun, delicious pastries, isolation, and lies.
This rugged High Plains land of my heroine's hometown is the desolate, windblown, harsh land of the pioneer, American Indian, and cowboy. Even in adulthood, it stirs a strange yearning in Megan, as she deals with the pressures of a law firm and a new love, as well as her attempts to unravel the haunting mystery surrounding her mother. Meanwhile, a disturbed neighbor seeks vengeance against Megan and her friend, driving them into the darkness of the rough land in a test of her wits, fortitude, and resourcefulness. Ultimately, her greatest challenge is to forgive.
Although the story is far from autobiographical, I did graduate from Creighton University School of Law in Omaha, I did play point guard at a Nebraska high school, and I am half Arab Christian and half Celtic (well, I'm Welsh). Whether I am a descendant of pirates is debatable, though my lack of height is without question.
Available at online retailers.
Reviews:
"Judy Bruce does an excellent job of describing small town life in Nebraska. From the way town gossip spreads to the way people judge others plays an integral part in Voices in the Wind, as does the harm secrets can cause a family. Megan is portrayed as a smart, strong young woman who instills confidence in others. She is compassionate and spiritual, and yet at the same time, she excels as a hard-nosed bulldog of an attorney. Her supporting cast is varied, and each cast member has a strong personality. Bruce has a unique voice. She is an expert at setting the scene and creating memorable characters. The plot is clear and entertaining, and the back story is believable and adds value. Overall, I felt drawn to my own down-home roots after reading Voices in the Wind."–Readers' Favorite Book Reviews

"With a touch of spiritual awareness, Megan's story will capture the reader….It is Megan's journey of self-discovery, but Bruce also weaved in mystery and a little suspense to this contemporary story….Bruce added twists, turns and conflict all while keeping the story realistic and allowing Megan to grow."–Caffeinated Book Reviewer

"Returning home to join her father's law practice, a young Nebraska woman uncovers long-kept secrets in this novel tinged with thriller, supernatural, and romance elements. Bruce offers an appealing hero in Megan, whose tough practicality belies her small size….Bruce uses her setting well, bringing out the spooky beauty of a place most would see as barren….[and] established Megan as a well-prepared fighter ready to meet every problem with head, heart, or fists. Hero and setting make a great match in this entertaining story."–Kirkus Reviews
Check out my site on Goodreads.com.
The second story in the series, Alone in the Wind, was published by Merriam Press in October 2015.
Here are some questions I've been asked:
1. What inspired you to write this book?
On my way from my home in Omaha to a family vacation in the Rocky Mountains, we stopped in western Nebraska for a break. This area of the High Plains, with its ruggedness and relentless wind stirred something inside me. Yes, the Rockies are spectacular, but this feeling of yearning and eeriness stuck with me. I don't think I can describe how my mind then jumped to the creation of the characters and story. Like my protagonist, Megan, I'm a law school graduate. Spoiler: I've never killed anyone. And thankfully, I don't find trouble like Megan does. I'll never write a memoir–I'm much too boring.
2. Do you plan on writing more books (with these characters) (on this topic)?
This is the first book in a series set in the Nebraska panhandle. For now, I plan on 8 books in the series.
3. Where is your favorite place to write books?
I write in my home office, but I know that many of my ideas will come while I'm on the exercise bike or in the shower or during supper, so I keep paper stashed in every room of the house. It's these collected ideas that make up the bulk of my books. Inspiration can strike at any time—I try to be ready for it.
4. Did you outline this book first? Or just start writing?
Oh, I always write and outline and separate my notes according to a three-part structure. I know that I will veer from the outline and the story will sometimes take its own direction, and I go with that, but the outline helps me to get where I need to end up. An outline also helps to remind me where I'm going, so writer's block is not a problem for me.
5. What was your favorite scene or chapter to write and why?
There's a life and death chase in the darkness across the rough land that was great fun to write. If anything, writing should be fun and exciting.
6. What was the biggest challenge in bringing this book to publication?
My first draft didn't work, so I set it aside and went on to other writing. Then one day, a few years later, I knew just how to fix it. So I rewrote it. I found an agent, but she retired due to health matters. So I found a small publisher on my own.
7. Do you have any writing rituals?
Oh, my writing is always better when a have a big mug of Starbucks Double Chocolate hot chocolate next to me. It has 3 grams of dietary fiber! And the cocoa beans are "ethically sourced." I have no idea what that means, but it sounds good.
8. When did you first realize you wanted to be a writer?
I'm a law school graduate; I was working as an attorney-negotiator for an auto insurance co. when I needed to stop working full-time and stay home to tend to my profoundly autistic son. I was working part-time as consultant when it occurred to me that I ought to write down some of the stories I always had floating around in my introverted, middle-child noggin. So I came to writing late in life (I was forty).
9. What do you like to do when you're not writing
Aside from family activities, if I'm not writing a first draft, I'm developing my next story or revising the last one and dreaming of writing the next one.
10. Do you have any advice for other writers?
Study your craft—structure, characterization, plot, etc. And learn grammar! Agents and publishers expect it (if you know grammar, then you'll be more successful at finding fun and creative ways to destroy it). There's a whole industry out there to help you develop storytelling. I've found Writers Digest to be a great tool.
Also, feed the storyteller inside you. I don't like to read other writers when I'm writing, but movies can stir ideas. And don't limit yourself to one area—explore comedy, war, Japanese anime, classic Hollywood, action, foreign, anything, even if it isn't your area of storytelling.
Revise! Then revise again and again. Even if I don't change anything major, there's always stuff to smooth out, tweak, polish, whatever you want to call it. Make sure it's perfect before you submit it to agents or publishers.
11. What are other questions people have asked about this book?
Is this the next Fifty Shades of Grey? Heck, no. I trust the imagination of my readers. I create images and scenarios then let the reader go with it–whatever the subject. And no, it's not chick lit, romance, or any form of erotica. I'm always killing someone off. This doesn't fit easily into genre literature. That means I use no vampires, zombies, S & M, teen love triangles, or sappy love stories to tell my stories. I'll confess my main character is odd despite her straight-laced job as an attorney. I do employ the desolate, sometimes eerie land as a character, as well as a menagerie of quirky friends and an eccentric spinster to weave my tales.
Do I buy into my character? That's hard to answer without giving too much away. She's a young attorney and she considers herself rational, but she has an "otherness" about her. Much of that evolved in the writing of the book, and continues to develop in subsequent stories. It comes from her yearning, the haunting land she loves, and that crazy wind…
Is Megan's father like my dad? Not even close. Thank you Charles Dickens for providing Mr. Dombey and Mr. Tulkinghorn as references. My dad was fun. Also, I didn't grow up in a broken home. I had a fun childhood with two brothers and two sisters.
Wait, I just thought of something—maybe being around someone who's different, my autistic son, made me think about someone who's otherwise very normal, but has something unusual about her. Whoa, a little bit of personal analysis here. I'm wondering whether to keep that last part. Gotta go think about it. Okay, I guess I'll keep that. Oh, and I started my second shot at writing the story the year after my sister Janet died of brain cancer. Hmmm. A psychiatrist would have fun sorting through this info. Maybe I'll keep this part anyway. I do mention brain cancer in Voices, and an autistic young man is featured in my second book in the series, Alone in the Wind, and a second autistic can be found in book 5, Lies in the Wind. 
In the second installment of the misadventures of Megan Docket, she learns of the investigation of meth dealing in the area. A gut feeling forces her to question the motives of a DEA agent residing in the area. As she snoops on the agent, she becomes protective of a young teen and a young autistic, who works at the local diner. The meth use in the community causes the deaths of two friends and ensnares the local residents in the drug trade.
Meanwhile, discord with her husband Brian creates problems at home. When the DEA agent and the chief of police commit murder, Megan uncovers the truth. After she impulsively takes action against the men, it blackens her soul and plunges her into a personal hell. Burdened with grief over the community tragedies and her own guilt, she seeks redemption.
Now available at online retailers.
"Alone in the Wind by Judy Bruce is a compelling tale of treachery and deceit set in a small town in western Nebraska….Alone in the Wind is well-written and well-crafted, with the author's descriptions of scenery and place so vivid that it's easy for readers to close their eyes for a moment and see the unforgiving, raw landscape of Megan's Nebraska. While the story is set in a town small enough that everyone appears to know everyone's business, this makes the story all that more engaging and gives it a colorful local flavor. Bruce's treatment of the character of Davey was especially well done as the author chose not to resort to stereotypical clichés when presenting a pivotal character with a disability…. Bruce's main protagonist, Megan Culhane, is clearly a big fish in a small pond and it's her ballsy, take-charge attitude that makes the story such a compelling read."–Readers' Favorite Book Reviews
The third story in the Wind Series finds Megan stirred by the mystery of two strangers and the unsolved murders of two local women from decades past. Pregnant yet haunted, Megan summons the help of close family and friends then plunges into an investigation which uncovers deceit, revenge, and betrayal. As Megan nears the truth, she and her crew become endangered by the killer. When Megan persists, she faces disastrous consequences.
Now available!
Reviewed by Divine Zape for Readers' Favorite
Book Three in the Wind Series, Cries in the Wind by Judy Bruce, is a story that is really difficult to put down, even for a moment, a compelling, investigative story fraught with many surprises. This time, Megan is pregnant and she has her own secrets, but she can't walk past two unsolved murders that took place in the past. Determined to find the truth, she is disturbed by the presence of two shadowy characters that could be as deadly as they are unforgiving. Teamed with friends and family, Megan hopes to uncover the truth about the murders of two local women, but will she? And what if the price of the truth is more painful than discovering it?
The story begins with very interesting facts, some kind of confession from the protagonist and features the level of internal conflict she has to deal with. The characters, the plot lines and themes are powerful enough to make readers want to check out anything Bruce will write. Crafted to feature intense action and huge conflict, Cries in the Wind isn't without frequent moments that leave a smile on the reader's face. The humor, somewhat subtle, permeates the entire work, and it reads fast and enjoyably.
Judy Bruce is the kind of writer with a voice readers will adore – clear and utterly engaging. The author has the gift of the first person narrative and the reader feels irresistibly drawn into the story. The POV comes across well, and there is a rare clarity in the story that is uncommon with many writers using a similar style of narrative. The prose is simple yet strong, flowing with potent images that will stay with readers for a long, long time.
Reviewed by Hilary Hawkes for Readers' Favorite
Cries in the Wind by Judy Bruce is the story of senior law partner Megan's investigation into the murders of two women decades before, and her untangling of puzzling events that impacts her own family and personal life too. Two families, the Quinns and the Bolgers, a father in prison, a piece of land that holds a terrible secret, accusations of rape, lies, revenge and danger – pregnant Megan enlists the help of her family and trusted friends to uncover the truth. All the while she deals with her at times alarming sensitivity to atmospheric messages from the past. But what sort of danger has the brave and unstoppable Megan stumbled into and can she keep herself and her unborn child safe from those who would prevent her from finding the true killer?
Judy Bruce's Cries in the Wind is a well-written and fast moving story with many characters. Back stories and past events are explained so we see how each impacts the plot and how all the different threads of the story weave together. Megan is a likable, brave and gutsy character and I felt drawn into her situation from the start. Danger, mystery and red herrings abound as some alarming and tragic events unfold. I liked the way Megan gradually and unwittingly closes in on the truth and the way the author builds the tension to a most intense and unexpected point. Judy Bruce uses the plot well to convey the motivations behind actions, and we see how, despite some desperate and atrocious covering up tactics, truth has a way of outing in the end. An insightful story about the consequences of secrets and betrayal, and the impact tragedy can have on individuals.
Reviewed by Jack Magnus for Reader's Favorite:
Judy Bruce's investigative mystery/legal thriller, Cries in the Wind: Wind Series, #3, is a fascinating look at how cold crime investigations are conducted and, hopefully, solved. Attorney Megan Docket is thorough and painstaking in her zeal to clear both Walt and her own father, who had had no alibi during the time the murders took place. The War Room she and her fellow investigators turn her study into could very well fit into any police or FBI office investigating a crime, which pleased the police procedural fan in me no end. While this is the third book in Bruce's Wind Series, the author includes enough background information to allow this book to be enjoyed on its own. I soon found myself involved in the story and feeling right at home with the cast of characters and the locale. Megan's wastelands where she and the other kids in the area grew up playing in and exploring are fascinating, and I couldn't resist Googling the area to see for myself the natural environs this compelling read has for its setting. I was very impressed by Cries in the Wind and am looking forward to reading more of Judy Bruce's Wind Series. This mystery with elements of a legal thriller and a police procedural all rolled up into one neat plot is most highly recommended.
FIRE IN THE WIND
Outraged by a cross burning on her land, Megan forms the Night Posse then strikes back. Meanwhile, she is saddened by the tragic illness of her dear friend, James. After her new boyfriend is killed, she is jailed for his murder. Later she fights to the death in the darkness against an avenger. When a dying James attempts to end his life, Megan is forced to act.
Book 4 is available from online booksellers.
Reviews: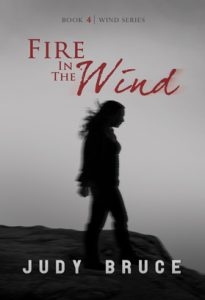 AuthorsReading.com:
Fire in the Wind by Judy Bruce is a suspenseful story about Megan Docket. Megan is an attorney in Nebraska who lives anything but a quiet small town existence. Dexter, Nebraska is home to Megan and her family-and a variety of criminals. Megan seems to be enthralled in several adventures and happenings in her life. There is a cross burning on her land, really good friend suffering health issues, a divorce and a dead boyfriend. One tragedy after another finds Megan right in the heart of them all. There is murder, mayhem and fighting. A very well written suspenseful account of the daily happenings in Megan's Life. Fire in the Wind will keep you reading from page one and riveted to Megan and the Situations in her life. Megan is a young woman, but has endured and is enduring many tragedies along the road of life. Bruce not only writes an action filled book, but one that also has lots of relationships and emotions. Bruce is masterful in bringing her characters right into the realm of the reader and keeps them there. You will want to sit with Fire in the Wind from page one and not put it down until the last page. A very good read!!!
Reviewed By Sefina Hawke for Readers' Favorite
Fire In the Wind by Judy Bruce is the fourth book in the fictional mystery series, Wind Series. This is a book that would appeal most to an audience of adults and mature young adults who enjoy mystery thrillers as well as those who have enjoyed the previous books in this series. Megan's day begins just like any other … until she finds an unlocked door with scratches that indicate the lock was picked. Megan has been through all sorts of adventures that have honed her senses so when she begins to feel that something is wrong, she gathers her friends, her family, and calls the police. By nightfall Megan's hunches prove correct as she finds a cross burning on her land. Megan's outrage knows no bounds as she creates the Night Posse in order to strike back. Will Megan overcome this new avenger or will she find herself convicted of a murder she did not commit?
Fire In the Wind by Judy Bruce is written from the perspective of the main character, Megan, as she finds herself in the middle of another adventure. I personally enjoyed the way that the story was written from Megan's perspective as it made me feel like I was experiencing everything alongside her. Megan was by far my favorite character because of her strong attitude and her ability to handle herself in dangerous situations; it was nice to see a female character who was willing to stand up for herself and fight back against those who would hurt her. I felt saddened for Megan's loss when her boyfriend is killed and anger on her behalf when she found herself accused of his murder. Overall, this was a book I enjoyed reading, though I would recommend that all readers read the previous books first so as to better understand the characters.
Ray Simmons for Reader's Favorite:
I am in awe of Judy Bruce. I am almost as much in awe of Megan, the protagonist of Fire in the Wind. But I keep reminding myself that Megan is a fictional character and Judy is the real live writer who created her. It's hard sometimes because Megan felt so real to me. This is a woman I'd love to have as a friend. This is a woman I'd love to sit down and have a drink with. This is a person that I'd call on if I needed someone to watch my back. I loved Fire in the Wind. I plan to read it again and again in the hope of learning something about how to craft a tight compelling story. That is some of the highest praise I can give a writer and Judy Bruce deserves it. I started reading Fire in the Wind and I couldn't stop. Everything about it is compelling. Judy Bruce is the real thing.
I liked everything about Fire in the Wind but what stuck out first were the characters. I have met people just like them in my hometown, or while serving in the Army, or in other small towns across America. That Judy Bruce describes them so well made the story real for me. I also liked the diversity of this town. Some people give diversity a bad name sometimes, but this is the America I see today. It didn't seem that diverse when I was a kid, but after traveling around as a young man, this is the America I see. I think it's important for writers to see it and show it too. The plot is great. It starts with a bang and it's a race to the finish line. I wish I could pace a story so well. Read this book. Read this writer.
Reviewed By Deborah Lloyd for Readers' Favorite
Megan Docket, an attorney in the small town of Dexter, Nebraska, is surrounded by loving family and friends – and dangerous criminals. Finding a burning cross was the beginning of a frightening adventure in Fire in the Wind by Judy Bruce. Although Megan has not yet celebrated her thirtieth birthday, she has already lived a life full of harrowing moments and tragic deaths. She is no stranger to defending her own life, and has found herself killing others in self-defense. Days before her divorce from Brian is finalized, she is breaking up with boyfriend Zane and has two other men fighting for her affections. At the same time, she is grieving the effects of a major stroke on her great friend, James, a man who was like a father to her.
This book engages the reader from the first page to the last. It is full of thrilling action, and numerous twists and turns. There is also a plethora of deep emotions, as Megan has had so many personal and professional challenges to endure. And, the main character also is a finely-tuned intuitive, as she frequently receives premonitions of events that come true. Author Judy Bruce developed an intriguing story through her highly-skilled writing in Fire in the Wind. Her writing is fast-paced, clear and concise. This is the fourth book in the Wind series; there are enough references to Megan's earlier adventures that the reader will want to read the first three, if s/he has not already done so. This book is definitely a breathtaking, adventurous tale!
Reviewed By Joana James for Readers' Favorite
Fire in the Wind by Judy Bruce tells us the story of Megan Docket, a lawyer in a small Nebraska town, with a sixth sense for trouble. This awareness lands her in the middle of crimes that the police have a hard time solving. Megan, along with her small band of friends, the Night Posse, solve an instance of racism that is connected to other crimes in the area. After a personal loss and an unlucky love life, Megan struggles to protect her heart. Her drive to protect everyone she loves leaves her battling her own personal demons. Making some questionable decisions lands her in even more hot water, but she is able to take care of herself until she loses someone who is near and dear to her. Megan seems to unravel, but the love of family and true friendship rescue her from the brink.
Fire in the Wind is an action-packed depiction of a strong, confident woman who still struggles with the difficulties of everyday life, like every other strong, confident woman. There is never a dull moment in the story as Megan fights bad guys, does her own investigations, tangles with love, and manages to find herself behind bars in the process. The story's pace is quick with elements that would appeal to most readers. There's action, adventure, romance, and even some drama. This is an easy, feel-good read with some sexual overtones. Though this is the fourth book in a series, there was no issue with missing information from previous books. Judy Bruce did a good job of giving a new reader all the information necessary to enjoy this one.
Women Connect Online:
Though the title to Judy Bruce's Wind Series book changes the book cover does not change. Letting the reader easily identify that this book is part of series. Excellent marketing tactic listing the other books that are part of the "Wind" series at the beginning of the book. Judy Bruce writing has a sense of humour you will find yourself laughing at the dry humour throughout the book.
The main character Megan's role changes throughout the book series, in this series she taps more into her psychic abilities that she calls her gut feeling when she is dealing with conflict. Again she finds herself put in a role as a vigilante. Sometimes relying on the law is not enough, she herself avenges and conquers the evil people that has invaded her small town.
We emotionally identify and relate to Megan as she is haunted by her now tragic past. This book is well written, full of romance, suspense, mystery and adventure. She has had three stunning men in her life and she is torn between them. Megan is a role model, a highly successful respected lawyer, who like a private eye solves difficult cases. She is financially independent, has a love for animals, a true warrior who is gutsy and tough.
As a teen I was a great fan of Nancy Drew, this series reminds me of the adult version of the Nancy Drew series because it is fast paced and chapter to chapter keeps me in suspense. I find myself rereading the other books in the series. Like the Nancy Drew series, this is a series that you will keep as a collectable. As you get to know Megan more, you will find yourself sharing this book with your sister, daughter or girlfriend. You will find yourself impatiently waiting for the next series to learn more. The "Wind" series would definitely make a great TV series.
You can learn more about Judy Bruce and her writing by going to her website , Amazon and other retailers.
Reviewed By Romuald Dzemo for Readers' Favorite
Fire in the Wind is book four in the Wind Series by Judy Bruce, a title that immediately suggests a spirited work of mystery. I was first intrigued by the title, by the images it conjured, and then it turned out I wasn't wrong in picking it up. In this mesmerizing tale, the reader is introduced to a beautifully crafted yarn that explores powerful themes, including discrimination, racism in its goriest form, love, friendship, and redemption.
Judy Bruce had me enticed and enthused by her beautiful prose. I was pulled into the story by the strong character of the protagonist, a character who is punished more than an average woman can take, but who keeps on fighting. Readers will find a place in their hearts for Megan, a character who is well-explored and whose story will resonate in many lives. The story is well-paced and there is a lot of drama going on. I was particularly taken by the emotional strength of the story and the multilayered conflict. The subplot creates a powerful sense of suspense which encourages the reader to keep on turning the pages. Fire in the Wind is a spellbinding story, very captivating and absorbing.
Reviewed By Rabia Tanveer for Readers' Favorite
Fire In the Wind is the fourth book in the Wind series by Judy Bruce. Megan Docket is an attorney in a small town. She is not new to violence and fighting for her life; she has learnt the hard way. Although she is not even thirty yet, she is already on the way to being divorced, has broken up with a boyfriend, and her life is becoming a mess very quickly. Her life takes a very difficult turn when she finds out that someone tried to break into her room, and she barely has time to be outraged when she finds a burning cross on her property.
She has a strong feeling that something is wrong and there is not much that she can do about it. Her personal life is going down the drain. With her divorce just days away from being finalized, her personal life is at a standstill, and now this is happening. What can she do when there is something sinister and unwanted happening around her? Is this something that she can fight? Or is this it? Is this is the end of her life?
Fire In the Wind is perhaps one of the best and most engaging novels I have read this year. I love a novel with a strong female lead. Megan was the perfect lead, and she is strong, resilient, and ready to take charge of the situation whenever it is needed. Judy Bruce did an amazing job with creating these characters and this storyline. The story is fast paced and fully developed, there were no loopholes and no loose ends. This was a really entertaining novel, one that I will not forget any time soon. Wonderful!
LIES IN THE WIND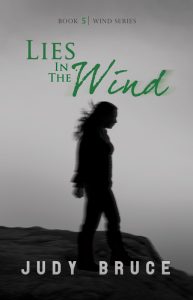 In the fifth installment of the misadventures of Megan Docket, she becomes embroiled in the investigation of a double murder. As she solves the crimes, she deals with her love life, protects an autistic boy from the killers, and fights to survive.
Now available online!
Reviews:
Megan Docket is an iconic character who is not only a successful attorney but also a woman who loves riding her horse, Strider, and cruising in her Acura SUV she named Barracuda. She is well off enough to afford a housekeeper, Patty Light Horse, a Native American Lakota Indian. As much as she tries to enjoy life, she is also haunted by a couple other murders that took place in her past. Now she has two new murders to deal with in her small hometown situated in the western plains of Nebraska. Although this is book 5 of the Wind Series, Judy Bruce provides enough backstory in "Lies in the Wind" to allow you to enjoy her new book without being lost because you hadn't read the previous books from the Wind Series.
"Lies in the Wind" is a murder mystery with just enough romance sprinkled in it to give it a real down to earth feel. This novel is evenly paced and is a well-written whodunit. Bruce covers all her bases on this one keeping the reader involved, tracing over the clues and the characters woven into the story. Bruce will keep you guessing who the killers and if Megan Docket will be able to prove the guilt of the real murderer? The mix of deduction, intuition, and well, quiddity kept the pages turning. I just could not wait to see what happened next. So if you're up for a "who done it" with a little Western/American Indian twist you could easily get hooked with this latest in Judy Bruce's Wind Series. You can rest assured you will not be able to set it down. –AuthorsReading.com
Readers' Favorite 5 Star Reviews:
Reviewed By Arya Fomonyuy
Lies in the Wind by Judy Bruce is an interesting story with memorable characters. Meet Megan, an investigator with her own struggles to handle. Now, she finds herself involved in a double murder case. Celeste, her new client, has just informed her about a tragedy that has happened in their family — her uncle and aunt have been murdered and her father has been arrested for the crime. Can Megan get to the truth and free this man, or could it be he is actually the murderer? The reader is pulled into the story to follow a gritty investigation that puts the life of an autistic boy in danger and has a lot at stake.
Megan is a great character and I enjoyed the fact that she is a woman, and not just any kind of woman. She is flawed and comes across as a genuine human being and not a superwoman. I enjoyed her struggles with her relationships, her sense of guilt of having divorced her ex, and how she struggles to survive as well. The reader will notice a clear and well-defined character development arc. There is a lot to enjoy in this book and readers will appreciate the exciting and well-crafted dialogues. Judy Bruce's prose is excellent and her diction familiar and delightful. I enjoyed the tone in this narrative, done with a master's touch in the first person. The fifth book in the Wind Series, Lies in the Wind reads well as a standalone novel and fans of crime and police stories will enjoy the emotional and psychological dimensions of the story.
Reviewed By K.J. Simmill
Megan knew there was something wrong before Celeste even walked through her doors. She could feel the malevolence, the evil, in the air. She knew something was coming, but not what. When Megan finds herself involved in what was about to be passed off as a murder suicide, she had no idea how deeply she'd be drawn into things. She was already the executor of this family's will, and found herself drawn to their autistic son, Mitch, who reminded her so much of her own child. Determined to find answers, she pursues her own investigation, unaware exactly how life changing this particular case will be. Join the search, follow the clues, in Judy Bruce's Lies in the Wind, Wind Series Book 5.
From the very first page, Judy Bruce's Lies in the Wind will have you enraptured. Quick to start with a momentum that just keeps building, the plot provides everything the reader needs to piece together the clues and follow the breadcrumbs, so pay attention as you're reading and you'll find yourself solving the case alongside Megan. I found the characters to be very real, complex and well developed with a continuous growth throughout the book. As a parent of a child on the spectrum, I found the sensitivity used to deal with Mitch, and the attention to small details to be refreshing, and this same attention to detail is skillfully woven into the plot. If you love a good murder mystery, Lies in the Wind certainly ranks among the top of those I have read. There is everything you would expect from the genre, as well as some great character focused areas. Murder, mystery, family feuds, relationships, red herrings, and a just a smattering of the paranormal; it's a recipe for a perfect read.
Reviewed By Ruffina Oserio
Lies in the Wind is the fifth book in the Wind Series by Judy Bruce, an engrossing blend of murder and mystery. "Megan! My aunt and uncle are dead and they've arrested my dad!" are the words that Megan's client uses to pull her into an investigation she never saw coming. But taking this case could have devastating effects and does Megan have what it takes to keep an autistic boy from the killers, save her relationship, and ultimately protect herself?
I was hooked from the very beginning of this story. In a very powerful way, the narrator introduces readers to the protagonist — a woman who seems to attract trouble to herself or who seems to bring trouble with her wherever she goes. When the reader meets Megan, there is so much in her life to break someone, like suffering the loss of an unborn child. Judy Bruce's characters are well-developed and readers will enjoy their emotional and psychological depth.
The narrative voice is strong and inimitable and the reader will enjoy the story from the protagonist's point of view, told in a compelling first person narrative. The pacing is fast and the reader can't help but care about the protagonist, wanting to find out what happens next in her life. Great prose, filled with interesting and plot-driven dialogues. The author weaves many surprises into the story, with strong moments of suspense, and that makes readers want to read on. Lies in the Wind is a spellbinding novel, a delightful read for fans of crime and mystery, and the characters are easy to love.
Reviewed By Christian Sia
Book five in the very engaging Wind series, Lies in the Wind by Judy Bruce features mystery, murder, and a gritty investigation. Megan isn't yet fully healed from the recent turbulent events that have rocked her career and her love life when she is plunged, without warning, into an investigation involving a double murder. But the investigation has its own trials and risks, and the life of an autistic boy is on the line. It is interesting to watch her dig into the mystery while trying to hold the pieces of her life together and keep a fragile kid safe.
It wasn't difficult getting into the story and being swept up in its tide. One of the reasons that kept me reading on is the compelling narrative voice and the author's great writing. I was pulled into the protagonist's worldview, which is well communicated in the first person narrative, and found myself looking at the world from her perspective. Judy Bruce crafts scenes that are steamy, action-packed, and emotionally rich. The characters come across as real and the dialogue, sometimes light, is engaging, forcing the reader to feel invested in the conflict and wanting to follow the characters as they reveal themselves and evolve through the story.
Lies in the Wind is a riveting read with rock-solid characters and a powerful, engrossing plot. It starts with a conflict — strong enough to get readers interested — and it doesn't take much time for readers to begin to savor the skillful use of humor and the masterly craft of suspense. If you want a book that makes you lose your sense of time and that keeps you absorbed by its drama and tension, then this is it.
Reviewed By Romuald Dzemo
Lies in the Wind by Judy Bruce is the fifth book in the Wind Series, featuring Megan, a very sophisticated character involved in solving a double murder case. The story is character-driven and as one follows the protagonist in her quest to resolve a complicated case, one discovers deeper levels of her humanity, gripped by her need to keep an autistic boy safe from ruthless killers while dealing with her own personal problems. At the beginning of the story, the reader gets a glimpse into the psychology of the protagonist and understands that she has been dogged by trouble lately. But that, as brilliant as it may seem, isn't what will get the reader to stay with the story.
The premise is too strong to be ignored: someone who is worried because their aunt and uncle are both murdered, and their father is arrested for the murder, seeks help. Such a premise is powerful enough to create a base for a strong emotional conflict and Judy Bruce has made great use of it. Apart from the great plot points and the intricacies of the story, the prose is delightful, punctuated with engaging dialogues that help to propel the story forward. The writing is balanced and the dialogues and descriptive passages are well-composed to feed the reader's interest. Lies in the Wind is a story for readers who love well-developed characters and strong plots; a fast-paced and engaging story. Judy Bruce is a great storyteller and I can't wait to lay my hands on the other books in the series.
Bruce (Fire in the Wind, 2017, etc.) keeps up a crackling pace in her fifth Docket novel, helping the reader keep track of a large cast through good exposition and a cast list. Megan's psychic abilities help nudge her in the right direction but aren't overly convenient, giving her room to demonstrate her lawyerly and investigative chops. As with the previous novels, Megan's personality interestingly blends compassion and practicality. She'll kill if she has to but pleads with God, "Please don't let me be evil." A few clever surprises keep readers guessing with a satisfying outcome. Another fine series entry, featuring a well-rounded heroine whose psychic abilities are just some of her gifts. –Kirkus Reviews
Megan is back in the latest installment of the Wind series and this time, she gets some assistance from the brilliant Edgar Allan Poe. Megan knows something evil is in her town, she can feel it in her bones. Not sure where or who, she calls her friends and family together. She shares her feeling and everyone in the room knows trouble is brewing. When a murder-suicide takes place to a husband-wife Docket Law client, Megan goes and investigates. Sinister evil assaults her senses from the moment she enters the house. The saddest part is the couple's autistic son who can't comprehend what's happened to his parents.
As Megan investigates, she unravels a long family feud, many possible suspects with a fairly large inheritance on the line. Megan, though, is taking precautions so as to not get gutted and possibly killed. But as the suspects narrow, she must enlist the help of Poe to uncover the murderer before it's too late. Will she succeed or will her heart beat no more? I'm a huge fan of the Wind series and this one is by far, the best! Judy Bruce pushes Megan, already reeling from the loss of her unborn child and many other lives, to the very limit and we're left to watch as Megan picks up the pieces. Emotional roller coaster wrapped up in a brutal double-murder is the crux of Lies in the Wind. While there was quite a bit more characters to keep straight, it added to the depth of the mystery and I enjoyed trying to figure it out before Megan did. An edge of your seat thriller with a flawed female protagonist who puts her life on the line to help solve the crimes in her town. Highly recommend! –NN Light Book Heaven
Yvonne Wu Women Connect Online
Though the titles to Judy Bruce's 'Wind' series of books changes, the book covers do not change, Letting the reader easily identify each book as part of that series. Excellent marketing tactic listing the other books that are part of the "Wind" series at the beginning of the book. Judy Bruce's writing is very descriptive, her writing voice has a dry sense of humour that keeps you laughing throughout the book.
The role of the main character, Megan, changes throughout the book series. In this series, we see Megan's soft side as she protects the disabled boy Mitch whose parents are murdered. Ensuring he is properly cared for emotionally and financially. We form respect for Megan as we see how valuable she is in solving this complex case. We realize in this series that not only is she physically tough but she is smart as well. The police rely continually throughout the book on her intuitive observations and her keen detective skills to help solve what was staged as a suicide but soon becomes a case of murder of the couple Val and Edward.
This book is well written, full of romance, suspense, mystery and adventure. The reader and townspeople see Megan as someone who is a true warrior, gutsy and tough. Megan has a following; People call her "Annie Oakley of the Wild West." Indeed, the name fits the character of Megan. When solving previous crimes, she has been forced to kill several men in self-defense. Women see Megan as a role model. She is financially independent, a highly successful and respected lawyer who, like a private eye, solves difficult cases. This book will be passed on to mother, sister and daughter. Are you ready? This book will leave the readers spellbound on the edge of their seats! –Yvonne Wu Women Connect Online
VENGEANCE IN THE WIND
Wind Series Book 6: Following a trip to the Pine Ridge Indian Reservation, Megan Docket, a young attorney, helps her friends plan and execute a haunted house. When a murder occurs there, she must expose the killer to protect the people who are falsely accused by a zealous prosecutor. When her mother and her law firm staff are held hostage by the killers, she uses her wits and moxie to stage a rescue.
October 2019 Now available!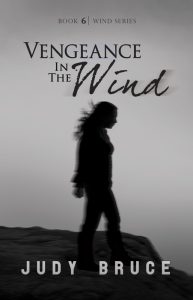 Reviews:
Reviewed By Romuald Dzemo for Readers' Favorite 5 Stars
Vengeance in the Wind is the sixth installment in the Wind Series by Judy Bruce, a compelling read and an irresistible treat for fans of murder and mystery. Megan Docket is a passionate young attorney who helps her friends in their exploration of a haunted house, but things go south when a murder happens there. People get accused falsely and she wants to protect them. She needs to expose the killer. But she is putting herself into far more danger than she'd envisioned. Her mom and members of her staff are captured and held hostage. Now she must work a plan to release them, and this is more dangerous than anything. Can she pull it off without getting hurt and without putting any of her loved ones in danger?
A novel with a cunning plot and sophisticated characters told in the first person narrative and in a voice that absorbs the reader from the very opening. The protagonist, Megan, is a well-developed character with deep layers of personality. I loved the way images meld with the action. The prose is exquisite and has a unique musical character, the kind of expression the reader loves because of the aptness when it comes to the choice of word and the natural feel of the dialogues. Vengeance in the Wind is fast-paced and emotionally intense. We follow a strong character that is hemmed in from all sides, finding herself in the middle of a powerful conflict and having to deal with the fact that the well-being of loved ones depends on each step she makes. It is suspenseful and psychologically rich.
Reviewed By K.C. Finn for Readers' Favorite 5 Stars
Vengeance in the Wind is a work of tense murder mystery and atmospheric fiction, penned by author Judy Bruce. Written as book six in the Wind Series, this short but satisfying novel is sure to grip readers with its tense narrative and intriguing mystery in a haunted house. The plot follows a young woman by the name of Megan Dockett, an attorney who has already been through several cases of murder and trauma in her life so far. Following her trip to a Native American reservation, she tries to return to normality, only to find more death on the doorstep. What follows is a thrilling investigation and hostage drama that will test poor Megan yet again.
Despite not having read any of the previous mysteries in the series, it was really easy for me to get into the groove of author Judy Bruce's Wind Series. Megan is an instantly relatable central heroine, strong but vulnerable, and clearly affected by the traumas which haunted her recent past, but also skillful and aware because of them. The narrative explained a little of the backstory, certainly enough to remind readers of the plot and allow newcomers to step into the action, and once the mystery is off and rolling, there's lots to uncover. The atmosphere is a big plus, with excellent descriptions of events and scenes that make you feel as though you're living in the moment with Megan when she uncovers the plots and clues that will lead her to rescue and the truth. Overall, Vengeance in the Wind is an excellent addition to what is sure to be an enthralling mystery series.
Reviewed By Astrid Iustulin for Readers' Favorite 5 Stars
It may happen that murders are the first step to discovering mysteries and connections that otherwise would remain hidden. In Judy Bruce's novel Vengeance in the Wind, this is truer than ever. When a man is found dead in the haunted house designed by Megan Docket and her friends, she needs to investigate further to discover the truth. As it turns out, this murder is only the first of many events and discoveries that will lead to an unexpected development. Even the persons Megan loves the most will be involved, so she needs to solve the mystery quickly. Will she be up to the task? There is only one way to find out.
Vengeance in the Wind is a marvelous novel where suspense, doubts, and even some action blend perfectly. The idea to set the murder in a haunted house creates the right atmosphere. Moreover, the constant reference to "darkness" – and all its implications – adds interest to the story. I like how Bruce presents the facts and how her heroine discovers the truth. The clear reasoning of the characters helps readers recreate the events. Readers will also take Megan's investigation to heart and will feel they are part of an investigation team. This happened to me, too. I think that Vengeance in the Wind is more than a well-written thriller where the ending meets readers' expectations. It is one of those books where you discover the pleasure of reflecting on the events by yourself. I am sure every lover of mysteries will enjoy this book as much as I did.
Reviewed By:
Grant Leishman
Review Rating:
4 Stars
Reviewed By Grant Leishman for Readers' Favorite
In author Judy Bruce's Wind Series, Megan Docket is a young, small-town, rural lawyer, who inherited the family law firm from her late father and who seems to attract trouble and mystery wherever she goes. In this latest offering, (Book 6) Vengeance in the Wind, readers find Megan visiting the Pine Ridge Indian Reservation. By the time she leaves to return home she has been the subject of an attempted attack and has semi-adopted a young native American, whom she plans to help find his way in life and suitable employment back in her home town. Whilst helping the neighbors set up a "haunted house" run for the locals, as part of Halloween celebrations, two murders occur and Megan and her husband find themselves in the middle of a mystery and a dangerous vendetta that will put them, their family and their friends at risk. With Megan's special intuition about evil and danger, can she solve the mystery killings before she or her loved ones are caught up in the mayhem?
Vengeance in the Wind is an action-packed, mystery adventure with a strong female lead in Megan Docket. Author Judy Bruce has done a fine job of painting a picture of this diminutive, yet feisty and determined young lawyer who takes no bull from anyone and is certain of one thing – when she and her friends are threatened, she will back down to no one. I particularly liked that Megan's "superpower" – her sense of evil and impending danger – was played so subtly. I thought the author got the balance perfectly right in ascribing this unknown "gift" to Megan. I appreciate an author who drops in subtle hints as to the backstory that may exist in previous books, allowing the reader to understand why certain decisions were taken or certain situations developed. If you like fast-paced mysteries with an ensemble cast of characters and a "kick-ass" female lead, this series could well be for you.
Reviewed By Kimberlee J Benart for Readers' Favorite  5 Stars
Vengeance in the Wind: Wind Series Book 6 is a murder mystery by Judy Bruce. It continues the thrilling and at times deadly adventures of Megan Docket, a thirty-year-old lawyer who possesses the ability to feel or sense the approach of danger. After a visit to the Pine Ridge Indian Reservation in South Dakota, she and her husband, a state trooper, return to their home in Nebraska bringing with them Nate, a young Lakota man who helped in an earlier criminal incident as an FBI informant. When a man is murdered in a community-sponsored haunted house in which Megan and Nate are volunteering, and Nate is later incriminated by planted evidence, Megan must put her best investigative foot forward to identify the real murderer even though it means danger to herself and those she loves.
In Vengeance in the Wind, Bruce gives us a complex protagonist in Megan Docket and an action-packed plot filled with twists and turns along the way. Although part of a series, it easily stands alone. References to past tragedies and trauma in Megan's life are sufficiently addressed and only serve to make the reader curious to know more. The narrative is told from Megan's point of view which gives the reader full insight into her thoughts, feelings, and actions. It moves at a good pace and is descriptive and emotionally evocative. Though she sometimes experiences almost debilitating episodes of foreboding, Megan is one tough and courageous woman who doesn't hesitate when protecting herself and others from bad guys. An entertaining read.
Book Review of: Vengeance in the Wind
Stacie Hearne<stacie@authorsreading.com>
Judy Bruce's Vengeance in the Wind is the sixth installment of her Wind Series. The series is about the protagonist, Megan Docket, a small-town attorney whose passion is estate planning, but often has to act as an attorney in tort cases between townspeople in conflict.  Invariably Docket gets drawn into murder cases as an attorney or investigative work – analogous Perry Mason. Bruce has honed her mystery writing style, producing probably the most satisfying installment of her series in this episode.
Megan Docket tries her best to live a life and keep her head above water, but she continues to be a magnet for trouble, not just minor things but serious trouble – like kidnapping and murder. In this episode, she visits the Pine Ridge Reservation and quickly becomes involved in a strange altercation with a drunk. She also leaves the reservation as a ward to a troubled young Native American.  Back home Megan is working with a community group who are making a haunted house complete with vampires, nasty spiders, and other haunted-house spooks. Unfortunately, their elaborate scary festive setting becomes a real place of horror as an actual murder turns it into a crime scene.
Megan has more to deal with when she becomes the target of a revenge drama that threatens her family and employees. Bruce adds a few red herrings into the plot, but basically, she turns up the suspense as more and more trouble rains down on Megan. Her mother is kidnapped, her husband is implicated in murder, and she has to work fast if she is going to be the heroine in this episode and save her loved ones. This is a story rich in action and many unsuspecting turn-of-events.  Who hates Megan, who wants to exact this revenge on her and how far will they go to get it?
Megan feels she is endowed with some sixth sense that warns her of impending danger. It doesn't expose what the danger is, but she feels it and even believes that the spirit of her brother and her deceased lawyer father talks to her and guides her in these terrible times of trouble.
Megan's past has crawled out of its grave, and she is headlong in a dance with a murderer.  Bruce unfolds other stories in Megan's small-town, making the tale very believable.  Some people in her town know more than they're saying, and somehow Megan is again at the center of it all.  When her husband is implicated in murder, her entire world appears to be crumbling, but when backed into a corner, she'll do whatever it takes to survive.
If you have read other Judy Bruce's books, you'll probably find  Vengeance in the Wind to be her best yet. If you haven't read previous episodes of the Wind Series, then this is a good one to start with. It isn't necessary to read her previous novels to enjoy this installment – Vengeance in the Wind can easily stand-alone and provide all the back story needed to make it an enjoyable read.
Book Review | Vengeance in the Wind by Judy Bruce #mystery #suspense #bookreview November 6, 2019
Wind Series Book 6: Following a trip to the Pine Ridge Indian Reservation, Megan Docket, a young attorney, helps her friends plan and execute a haunted house. When a murder occurs there, she must expose the killer to protect the people who are falsely accused by a zealous prosecutor. When her mother and her law firm staff are held hostage by the killers, she uses her wits and moxie to stage a rescue.
My Review:
Winds of vengeance shake Megan Docket to the core but like every other time, she's unsure in what form it will take. Megan and her posse of family and friends are helping put together a haunted house. When a man is murdered in said haunted house, it's up to Megan to unmask the killer. Things are never easy for Megan, especially when a slimy prosecutor threatens to take her down a few notches. With the help of all the people at the haunted house, Megan unravels who's responsible and has to bring them down. Will she succeed or has she just put those she loves most in the crosshairs of an old enemy out for revenge?
Vengeance in the Wind takes Halloween and adds its own evil spin to this holiday. Like every story in the Wind series, Judy Bruce casts new light on social issues. In this installment, she returns to the drug trade and how it affects not only the user and dealer but the whole community. The daily lives of Megan's tight-knit town tugs at the heartstrings. I feel like I'm part of Megan's group, not an outsider. The mystery is multi-faceted with a full cast of suspects and witnesses. By the time I reached the end, I had to catch my breath. The ending was pure adrenaline.
If you're a fan of small-town mysteries you can't put down, pick up Vengeance in the Wind. Even though it is part of a series, it is a standalone. Judy Bruce fills in the gaps on previous events so you can follow the story. Highly recommend!
My Rating: 5 stars
TORMENT IN THE WIND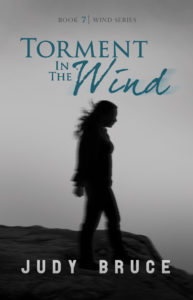 In the seventh and final entry in the misadventures of Megan Docket, she deals with a death threat and investigates the suicide of a friend. An attack on her life and the murder of a townsman forces Megan to find a killer and plot the end of a pernicious local thrill house.
Now available at online booksellers!
Here are recent reviews:
NN Light Bookheaven My Review: 5+ stars
Two death threats, a spooky house profiting off the dead, unsolved death of a childhood friend plus a murder all spells trouble for Megan Dockett. But when her guts start churning and the voices in the wind spell warning, she goes on the offensive and wages war on those tormenting her. She's been through far too much to turn tail and run. Instead, she gathers her family and friends and enacts a trap so deadly, Lady Macbeth would applaud. Revenge is sweet, especially when it comes in the form of Torment in the Wind.
Torment in the Wind is the final installment in the Wind series and in my humble opinion, it's the best book. It was a bittersweet read because all these characters, especially Megan, have a special place in my heart. The story itself is brilliant with plenty of suspense and drama. Judy Bruce's writing prowess is on display in full force and I found myself reading late into the night. All the series' loose ends are tied up, some of which I'd forgotten about. The ending made me gasp and when I finished reading, I gave my e-reader a hug. I'll miss Megan and her posse. If you're looking for a mystery you can't put down, pick up Torment in the Wind. This is a standalone, but I highly recommend reading the whole series. I look forward to seeing what's next for Judy Bruce. Highly recommend!
Reviewed by Lesley Jones for Readers' Favorite    5 Stars
Torment in the Wind by Judy Bruce is the seventh and final book of the Wind Series. Megan Docket is still trying to come to terms with her twin brother and father's deaths. When she receives a death threat with a Nevada postmark, she believes an enemy from the past, Trevor Drummond, is seeking revenge for losing his family. Meanwhile, a family rift involving a haunted tourist attraction, Drury House, where unsolved murders occurred, takes Megan back to her past and the suicide of a friend, Kyra. Although the case was quickly closed, Megan realizes there could be foul play and someone in the town could be responsible. When another death occurs involving Drury House, Megan and her team begin to investigate the murders, while also hunting down Trevor Drummond who has recently been released from prison and gone into hiding. Megan devises a plan to entrap the killer within the walls of Drury House. Someone in the town knows the truth and with lives at risk, time is quickly running out.
Torment in the Wind by Judy Bruce is a truly nail-biting plot that will keep you on your toes throughout. Although I had not read any previous novels in the series, I was able to follow the story very easily. The author cleverly gives a great deal of backstory throughout regarding past events and the mindset of the characters. Megan is a wonderful protagonist, incredibly intelligent, sensitive to others and will place others' safety above her own. There are clues scattered throughout the plot, some red herrings and others leading to the truth. The tension and suspense were constant, and Megan faced some quite dangerous, nail-biting situations. Another favorite character for me was Beulah, fearless, honourable and loyal. The storyline covers many aspects of life too, grief, loss, guilt and mental illness, with incredible sensitivity involving real emotions. I found the dialogue very authentic which suited each character perfectly. Megan's trap at the end of the story was absolutely gripping and the action was brilliantly executed.
Online Book Club:
Torment in the Wind by Judy Bruce is a thrilling crime drama/mystery with paranormal features. The author's prose is descriptive and easy to follow, and the characters are well developed. Written from Megan's first-person point of view, the book is filled with action, mystery, and a feeling of eeriness, which will send chills up and down one's spine. The reader's attention is captured in the first chapter when Megan awakens terrified, sensing something terrible is about to happen.
The importance of friends and family is an underlying theme. Megan's family and friends knew each other from birth, and they looked out for one another. A large group would meet at her home frequently after work, and they would share root beer floats, truffles, bourbon, and information. I enjoyed the feeling of camaraderie and friendship.
I enthusiastically recommend it to readers who enjoy crime dramas/mysteries with paranormal elements. People who have read the prior books in the series would appreciate it the most since they have been previously introduced to the majority of the characters. Nevertheless, this novel can still be enjoyed without reading the previous books.
AuthorsReading.com
Judy Bruce's Torment in the Wind is the seventh installment of the Wind Series. Megan Docket, who is a small-town attorney, is the surprisingly endearing protagonist of the series. Her preferred legal practice is estate planning, wills, and tort cases, but unfortunately, she repeatedly finds herself serving in criminal cases.   She also is a gifted yet troubled female detective.
A threatening letter mailed from the state of Nevada sets off a series of revelations that unearths deep secrets, and Bruce's layered approach gives the book more than enough plot points to keep the novel exciting.
Bruce's choice to reveal the possible villain's identities and peel back the layers of their family lives creates an atmosphere full of ominous suspense. Which one of them is the real villain in this story? Which one of them is out to kill Megan?
The timeless question of what makes a person good or evil lends the narrative, moral weight. Megan Docket is a restless heroine who seems to be constantly untangling complex crimes through her tenacity and feminine intuition.
This installment to the Wind series can be easily read as a stand-alone novel without the fear of being lost in a bewildering cast of characters. Bruce provides enough back story to make each of her series' installments easy to read as stand-alone novels.  Torment in the Wind is filled with unexpected twists and turns — rich in details and sly humor, and perfect for the armchair sleuth.
© Copyright  2023 Judy Bruce and Hey Joood. Duplication is prohibited. All rights Reserved.