Voices in the Wind/Wind Series
VOICES IN THE WIND
My novel is set in western Nebraska in the American Midwest. A young attorney accepts a job at her imperious father's law firm, which forces her to confront tragedies old and new, and leads her into a harrowing fight for survival and the transformation that brings forgiveness and a new perspective.
Along the way, my heroine, Megan, must deal with a crooked attorney, a tornado, lots of root beer, a blond stud, voices in the wind, heartbreak, a lunatic with a shotgun, delicious pastries, isolation, and lies.
This rugged High Plains land of my heroine's hometown is the desolate, windblown, harsh land of the pioneer, American Indian, and cowboy. Even in adulthood, it stirs a strange yearning in Megan, as she deals with the pressures of a law firm and a new love, as well as her attempts to unravel the haunting mystery surrounding her mother. Meanwhile, a disturbed neighbor seeks vengeance against Megan and her friend, driving them into the darkness of the rough land in a test of her wits, fortitude, and resourcefulness. Ultimately, her greatest challenge is to forgive.
Although the story is far from autobiographical, I did graduate from Creighton University School of Law in Omaha, I did play point guard at a Nebraska high school, and I am half Arab Christian and half Celtic (well, I'm Welsh). Whether I am a descendant of pirates is debatable, though my lack of height is without question.
My novel is now available at online retailers.
Here's my recent praise:
"Judy Bruce does an excellent job of describing small town life in Nebraska. From the way town gossip spreads to the way people judge others plays an integral part in Voices in the Wind, as does the harm secrets can cause a family. Megan is portrayed as a smart, strong young woman who instills confidence in others. She is compassionate and spiritual, and yet at the same time, she excels as a hard-nosed bulldog of an attorney. Her supporting cast is varied, and each cast member has a strong personality. Bruce has a unique voice. She is an expert at setting the scene and creating memorable characters. The plot is clear and entertaining, and the back story is believable and adds value. Overall, I felt drawn to my own down-home roots after reading Voices in the Wind."–Readers' Favorite Book Reviews

"With a touch of spiritual awareness, Megan's story will capture the reader….It is Megan's journey of self-discovery, but Bruce also weaved in mystery and a little suspense to this contemporary story….Bruce added twists, turns and conflict all while keeping the story realistic and allowing Megan to grow."–Caffeinated Book Reviewer

"Returning home to join her father's law practice, a young Nebraska woman uncovers long-kept secrets in this novel tinged with thriller, supernatural, and romance elements. Bruce offers an appealing hero in Megan, whose tough practicality belies her small size….Bruce uses her setting well, bringing out the spooky beauty of a place most would see as barren….[and] established Megan as a well-prepared fighter ready to meet every problem with head, heart, or fists. Hero and setting make a great match in this entertaining story."–Kirkus Reviews
Check out my site on Goodreads.com.
The second story in the series, Alone in the Wind, was published by Merriam Press in October 2015.
Here are some questions I've been asked:
What inspired you to write this book?
On my way from my home in Omaha to a family vacation in the Rocky Mountains, we stopped in western Nebraska for a break. This area of the High Plains, with its ruggedness and relentless wind stirred something inside me. Yes, the Rockies are spectacular, but this feeling of yearning and eeriness stuck with me. I don't think I can describe how my mind then jumped to the creation of the characters and story. Like my protagonist, Megan, I'm a law school graduate. Spoiler: I've never killed anyone. And thankfully, I don't find trouble like Megan does. I'll never write a memoir–I'm much too boring.
Do you plan on writing more books (with these characters) (on this topic)?
This is the first book in a series set in the Nebraska panhandle. For now, I plan on 8 books in the series.
Where is your favorite place to write books?
I write in my home office, but I know that many of my ideas will come while I'm on the exercise bike or in the shower or during supper, so I keep paper stashed in every room of the house. It's these collected ideas that make up the bulk of my books. Inspiration can strike at any time—I try to be ready for it.
Did you outline this book first? Or just start writing?
Oh, I always write and outline and separate my notes according to a three-part structure. I know that I will veer from the outline and the story will sometimes take its own direction, and I go with that, but the outline helps me to get where I need to end up. An outline also helps to remind me where I'm going, so writer's block is not a problem for me.
What was your favorite scene or chapter to write and why?
There's a life and death chase in the darkness across the rough land that was great fun to write. If anything, writing should be fun and exciting.
What was the biggest challenge in bringing this book to publication?
My first draft didn't work, so I set it aside and went on to other writing. Then one day, a few years later, I knew just how to fix it. So I rewrote it. I found an agent, but she retired due to health matters. So I found a small publisher on my own.
Do you have any writing rituals?
Oh, my writing is always better when a have a big mug of Starbucks Double Chocolate hot chocolate next to me. It has 3 grams of dietary fiber! And the cocoa beans are "ethically sourced." I have no idea what that means, but it sounds good.
When did you first realize you wanted to be a writer?
I'm a law school graduate; I was working as an attorney-negotiator for an auto insurance co. when I needed to stop working full-time and stay home to tend to my profoundly autistic son. I was working part-time as consultant when it occurred to me that I ought to write down some of the stories I always had floating around in my introverted, middle-child noggin. So I came to writing late in life (I was forty).
What do you like to do when you're not writing?
Aside from family activities, if I'm not writing a first draft, I'm developing my next story or revising the last one and dreaming of writing the next one.
Do you have any advice for other writers?
Study your craft—structure, characterization, plot, etc. And learn grammar! Agents and publishers expect it (if you know grammar, then you'll be more successful at finding fun and creative ways to destroy it). There's a whole industry out there to help you develop storytelling. I've found Writers Digest to be a great tool.
Also, feed the storyteller inside you. I don't like to read other writers when I'm writing, but movies can stir ideas. And don't limit yourself to one area—explore comedy, war, Japanese anime, classic Hollywood, action, foreign, anything, even if it isn't your area of storytelling.
Revise! Then revise again and again. Even if I don't change anything major, there's always stuff to smooth out, tweak, polish, whatever you want to call it. Make sure it's perfect before you submit it to agents or publishers.
11. What are other questions people have asked about this book?
Is this the next Fifty Shades of Grey? Heck, no. I trust the imagination of my readers. I create images and  scenarios then let the reader go with it–whatever the subject. And no, it's not chick lit, romance, or any form of erotica. I'm always killing someone off. This doesn't fit easily into genre literature. That means I use no vampires, zombies, S & M, teen love triangles, or sappy love stories to tell my stories. I'll confess my main character is odd despite her straight-laced job as an attorney. I do employ the desolate, sometimes eerie land as a character, as well as a menagerie of quirky friends and an eccentric spinster to weave my tales.
Do I buy into my character? That's hard to answer without giving too much away. She's a young attorney and she considers herself rational, but she has an "otherness" about her. Much of that evolved in the writing of the book, and continues to develop in subsequent stories. It comes from her yearning, the haunting land she loves, and that crazy wind…
Is Megan's father like my dad? Not even close. Thank you Charles Dickens for providing Mr. Dombey and Mr. Tulkinghorn as references. My dad was fun. Also, I didn't grow up in a broken home. I had a fun childhood with two brothers and two sisters.
Wait, I just thought of something—maybe being around someone who's different, my autistic son, made me think about someone who's otherwise very normal, but has something unusual about her. Whoa, a little bit of personal analysis here. I'm wondering whether to keep that last part. Gotta go think about it. Okay, I guess I'll keep that. Oh, and I started my second shot at writing the story the year after my sister Janet died of brain cancer. Hmmm. A psychiatrist would have fun sorting through this info. Maybe I'll keep this part anyway. I do mention brain cancer in Voices, and an autistic young man is featured in my second book in the series, Alone in the Wind.
In the second installment of the misadventures of Megan Docket, she learns of the investigation of meth dealing in the area. A gut feeling forces her to question the motives of a DEA agent residing in the area. As she snoops on the agent, she becomes protective of a young teen and a young autistic, who works at the local diner. The meth use in the community causes the deaths of two friends and ensnares the local residents in the drug trade.
Meanwhile, discord with her husband Brian creates problems at home. When the DEA agent and the chief of police commit murder, Megan uncovers the truth. After she impulsively takes action against the men, it blackens her soul and plunges her into a personal hell. Burdened with grief over the community tragedies and her own guilt, she seeks redemption.
Now available at online retailers.
"Alone in the Wind by Judy Bruce is a compelling tale of treachery and deceit set in a small town in western Nebraska….Alone in the Wind is well-written and well-crafted, with the author's descriptions of scenery and place so vivid that it's easy for readers to close their eyes for a moment and see the unforgiving, raw landscape of Megan's Nebraska. While the story is set in a town small enough that everyone appears to know everyone's business, this makes the story all that more engaging and gives it a colorful local flavor. Bruce's treatment of the character of Davey was especially well done as the author chose not to resort to stereotypical clichés when presenting a pivotal character with a disability…. Bruce's main protagonist, Megan Culhane, is clearly a big fish in a small pond and it's her ballsy, take-charge attitude that makes the story such a compelling read."–Readers' Favorite Book Reviews
The third story in the Wind Series finds Megan stirred by the mystery of two strangers and the unsolved murders of two local women from decades past. Pregnant yet haunted, Megan summons the help of close family and friends then plunges into an investigation which uncovers deceit, revenge, and betrayal. As Megan nears the truth, she and her crew become endangered by the killer. When Megan persists, she faces disastrous consequences.
Now available!
Reviewed by Divine Zape for Readers' Favorite
Book Three in the Wind Series, Cries in the Wind by Judy Bruce, is a story that is really difficult to put down, even for a moment, a compelling, investigative story fraught with many surprises. This time, Megan is pregnant and she has her own secrets, but she can't walk past two unsolved murders that took place in the past. Determined to find the truth, she is disturbed by the presence of two shadowy characters that could be as deadly as they are unforgiving. Teamed with friends and family, Megan hopes to uncover the truth about the murders of two local women, but will she? And what if the price of the truth is more painful than discovering it?
The story begins with very interesting facts, some kind of confession from the protagonist and features the level of internal conflict she has to deal with. The characters, the plot lines and themes are powerful enough to make readers want to check out anything Bruce will write. Crafted to feature intense action and huge conflict, Cries in the Wind isn't without frequent moments that leave a smile on the reader's face. The humor, somewhat subtle, permeates the entire work, and it reads fast and enjoyably.
Judy Bruce is the kind of writer with a voice readers will adore – clear and utterly engaging. The author has the gift of the first person narrative and the reader feels irresistibly drawn into the story. The POV comes across well, and there is a rare clarity in the story that is uncommon with many writers using a similar style of narrative. The prose is simple yet strong, flowing with potent images that will stay with readers for a long, long time. 
Reviewed by Hilary Hawkes for Readers' Favorite
Cries in the Wind by Judy Bruce is the story of senior law partner Megan's investigation into the murders of two women decades before, and her untangling of puzzling events that impacts her own family and personal life too. Two families, the Quinns and the Bolgers, a father in prison, a piece of land that holds a terrible secret, accusations of rape, lies, revenge and danger – pregnant Megan enlists the help of her family and trusted friends to uncover the truth. All the while she deals with her at times alarming sensitivity to atmospheric messages from the past. But what sort of danger has the brave and unstoppable Megan stumbled into and can she keep herself and her unborn child safe from those who would prevent her from finding the true killer?
Judy Bruce's Cries in the Wind is a well-written and fast moving story with many characters. Back stories and past events are explained so we see how each impacts the plot and how all the different threads of the story weave together. Megan is a likable, brave and gutsy character and I felt drawn into her situation from the start. Danger, mystery and red herrings abound as some alarming and tragic events unfold. I liked the way Megan gradually and unwittingly closes in on the truth and the way the author builds the tension to a most intense and unexpected point. Judy Bruce uses the plot well to convey the motivations behind actions, and we see how, despite some desperate and atrocious covering up tactics, truth has a way of outing in the end. An insightful story about the consequences of secrets and betrayal, and the impact tragedy can have on individuals.
Reviewed by Jack Magnus for Reader's Favorite:
Judy Bruce's investigative mystery/legal thriller, Cries in the Wind: Wind Series, #3, is a fascinating look at how cold crime investigations are conducted and, hopefully, solved. Attorney Megan Docket is thorough and painstaking in her zeal to clear both Walt and her own father, who had had no alibi during the time the murders took place. The War Room she and her fellow investigators turn her study into could very well fit into any police or FBI office investigating a crime, which pleased the police procedural fan in me no end. While this is the third book in Bruce's Wind Series, the author includes enough background information to allow this book to be enjoyed on its own. I soon found myself involved in the story and feeling right at home with the cast of characters and the locale. Megan's wastelands where she and the other kids in the area grew up playing in and exploring are fascinating, and I couldn't resist Googling the area to see for myself the natural environs this compelling read has for its setting. I was very impressed by Cries in the Wind and am looking forward to reading more of Judy Bruce's Wind Series. This mystery with elements of a legal thriller and a police procedural all rolled up into one neat plot is most highly recommended.
FIRE IN THE WIND
Outraged by a cross burning on her land, Megan forms the Night Posse then strikes back. Meanwhile, she is saddened by the tragic illness of her dear friend, James. After her new boyfriend is killed, she is jailed for his murder. Later she fights to the death in the darkness against an avenger. When a dying James attempts to end his life, Megan is forced to act.
Book 4 is now available from online booksellers.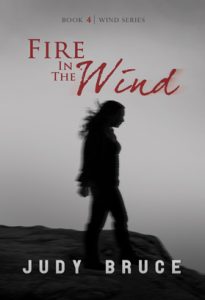 Copyright Judy Bruce and Hey Joood, 2017. Duplication of this material is strictly prohibited.